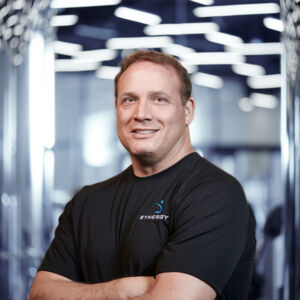 ABOUT SYNERGY FITNESS GROUP
Synergy Fitness Group is the premier, turnkey fitness management company in the Mid-Atlantic region. While we are headquartered in the DC metro area, our service capabilities include the Southern and Eastern regions of the United States. Our staff consists of dedicated, friendly professionals who understand the unique opportunities and challenges of designing, operating, and maintaining a first-class fitness center.
Synergy staff includes several masters-degree level health and wellness experts and a number of highly-qualified program leaders, group fitness instructors and personal trainers with national certifications. We've been committed to bringing superior health, wellness, and fitness services to all of our clients since 2006.
Synergy is owned and managed by Michael Grossman. Michael holds a BS in Sports Management from Guilford College and a Juris Doctor from the University of North Carolina. A member of the North Carolina bar, Michael practiced corporate and real estate law with wireless communications provider Vanguard Cellular Systems before co-founding telecom consulting firm Strategic Communications Services. Shortly after its sale, he purchased and operated Excel Fitness Group, which owned a 10,000 square foot commercial fitness center in Glen Burnie, Maryland under the name World Gym. Recognizing the need for professional corporate fitness and wellness management in the DC metropolitan area, he created Synergy Fitness Group, LLC in 2006. A native of Brooklyn, NY, Michael resides in Annapolis, Maryland with his wife Liliya, and two children Nicholas and Sasha.
Bobby Schwartz
Cushman & Wakefield
Executive Managing Director
Synergy's personal trainers and group fitness instructors have been wonderfully received by our clients. They are professional, engaging, and motivating and have brought a new level of positive energy to our fitness center.
Armond Spikell
Roadside Development LLC
Member
Synergy guided us through the fitness center design and equipment procurement process and helped us deliver a truly impressive facility that sets our property apart. We opened our fitness center on time and under budget and we've gotten great feedback from all of our users!